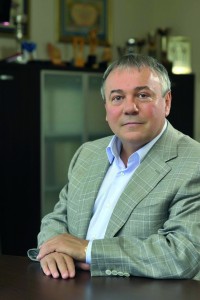 Dear students,
  ­­I would like to welcome you to the Megatrend University, the leader in higher education in Southeastern Europe for the past 27 years. Leading the development of the University has been the most rewarding experience of my career to date. We aim to create an energetic and vibrant atmosphere, and work hard to deliver world-class education in many different fields. We provide our students with a curriculum that is continuously evolving, meeting the changes in today's fast paced environment. This helps our students stay up-to-date with relevant information, so they can reach their full potential for future careers.
  Megatrend University has made significant progress towards our goal of establishing its presence around the world. Our international cooperation department has established hundreds of partnerships with institutions and colleges across Europe, Asia, North and South America.
  The collective impact of our faculty, students and alumni has made it easy to facilitate success for our University. We all have a very good reason to be proud of what we have accomplished so far.
  To come and study at Megatrend University means you will encounter a welcoming environment of an educational community, dedicated to pursue excellence. We are inviting you to join us and help us make the difference in our communities and in the world.
Sincerely,
Professor Mića Jovanović, PhD
Founder of Megatrend University