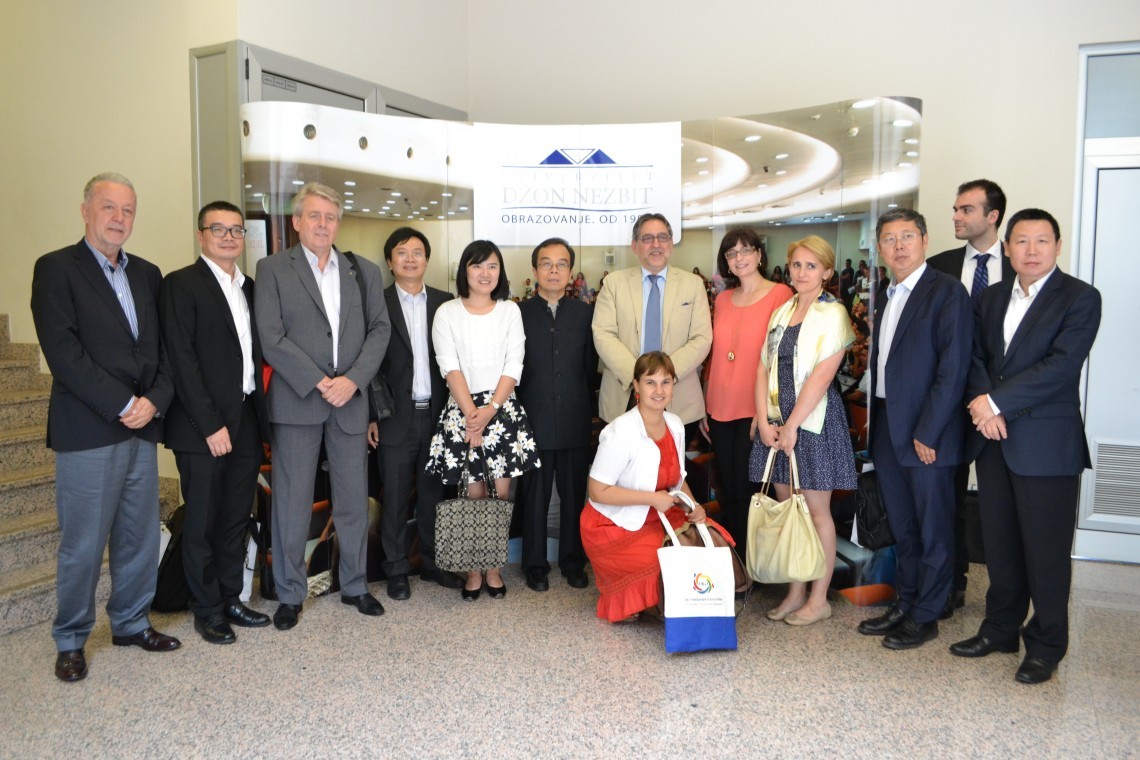 Within diversified Chinese-Serbian Cultural, Educational and Scientific Cooperation, further enriched during the visit of Chinese President Xi Jinping, the delegation of the Chinese Academy of Social Sciences visited "John Naisbitt" University on June 18, 2016.
The meeting, held in the premises of the University building in no. 8 Goce Delceva str., was attended by University Rector, Professor Slobodan Pajović, PhD, Vice-rector Professor Milivoje Pavlović,PhD, the Chinese Centre Director, Assistant Professor Katarina Zakić, PhD and Assistant Professor Nataša Kostić, PhD.
The Chinese delegation consisted of Directors and Researchers of Chinese Academy of Social Sciences (CASS), i.e. its Institute for European studies:
1. Huang Ping, Director General of the Institute for European Studies
2. Cheng Weidong, the Institute Deputy Director
3. Kong Tianping, a Researcher at the Institute
4. Chen Xin, Director of the Department of European Economic Studies
5. Liu Zuokui, Head of Central and Eastern European Department
6. Ye Bin, Deputy Director of the Department for European Legal Studies
7. Ma Junchi, Institute for European Studies
8. Li Yang, Institute for European Studies
The meeting was attended by Professor Branislav Đorđević, PhD, Director of the Institute, Mihajlo Vučić, PhD, a Researcher at the Institute and Ivona Lađevac, a Researcher from the Institute.
It was agreed that closer Cooperation will be established in the coming period with the Chinese Academy of Social Sciences, especially with institutes in charge of European, Asian and Latin American Studies. Upon mentioning the cooperation agreements with the Russian Academy of Sciences, Professor Pajović expressed his hope that similar cooperation co-operation could also be established with Chinese Academy.
It was agreed to launch joint research projects that would include those faculties of our university that are compatible with the research within the Chinese Academy – primarily Faculty of Geo-economics, Faculty of Culture and Media and Faculty of Business Studies. It is also possible to introduce new master's or doctoral degree programs with the help of the Academy, related to the disciplines of interest to China.
Given that the Chinese Center is the only institution of its kind in Serbia, and that it is a self-funded institution, the representatives of the Chinese Academy expressed their belief that through different commercial research projects to be implemented for the needs of governments or companies (Chinese and Serbian), its activities could be significantly improved.
After the talks, the guests visited the building in no. 29, Bulevar umetnosti, the Headquarters of the Chinese Centre and the permanent photo exhibition dedicated to China. During the visit, special attention was paid to the work of students and professors from the Faculty of Arts and Design.